Health of Our State and Beyond Series: Access to Clean Water
Thursday, November 11, 2021 @ 4:00 pm

-

5:00 pm
Addressing a need that affects over the drinking water in North Carolina, as well as 1.8 billion people worldwide, the Sustainable Access to Clean Water Creativity Hub is pursuing the development of an innovative, affordable membrane-based water purification tool that can safely remove a broad range of water contaminants.
The project team is comprised of polymer chemists, computational modelers, and engineers from the College of Arts & Sciences' applied physical sciences and mathematics departments and the Gillings School of Global Public Health. Building on graphene and graphene oxide nanocomposite membrane technology developed by the Dingemans lab, the team aims to develop new filters that make water purification more energy efficient. The new technology will lay a foundation for large-scale, affordable membrane production and be used for a whole range of pollutants – including removal of heavy metals which can be extracted and then reused.
Master of Ceremonies: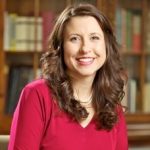 Jacqueline M. Olich
Vice President, University Collaborations of RTI International
Adjunct Associate Professor, Gillings School of Global Public Health
Jacqueline M. Olich, PhD, is the vice president of university collaborations at RTI International ($912M revenue in 2020), one of the world's largest independent research institutes. She heads the University Collaboration Office (UCO), which serves as a catalyst and hub for developing and managing partnerships with leading regional, national, and international academic institutions. Dr. Olich monitors a $75M+ active research portfolio with North Carolina universities. She oversees the RTI University Scholars Program, which has appointed 36 scholars since 2014 and led to $61M of new proposals awarded, and RTI's Internship Program. She led RTI's co-investments to seed fund collaborative teams and initiatives with Duke University, North Carolina State University, the University at North Carolina at Chapel Hill, North Carolina Central University and Rush University. She is also the executive liaison for the RTI Board of Governors University Research Collaboration Committee (URCC), RTI International's newest and largest Board Committee.
Presenters: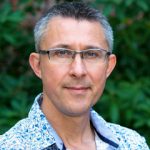 Theo Dingemans
Professor, Applied Physical Sciences, UNC College of Arts & Sciences
After receiving his PhD from Carolina, Theo Dingemans was a National Research Council (NRC) research fellow at the NASA Langley Research Center from 1998 to 2003. He joined the Faculty of Aerospace Engineering and Applied Sciences at the Delft University of Technology in 2003 as an associate professor and was appointed Antony van Leeuwenhoek Professor at the same University in 2009. In the same year he was appointed as the first Dutch Polymer Institute (DPI) research fellow. In 2016 he moved back to UNC-Chapel Hill where his studies all-aromatic high-performance polymers for functional and structural applications.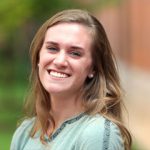 Anna Fraser
PhD candidate, Chemistry, UNC College of Arts & Sciences
Anna Fraser attended the University of Tennessee in Knoxville (UTK) for her bachelor's degrees in chemistry and geography. She spent the summer of 2016 researching polymeric gas separation membranes under Judy Riffle at Virginia Tech. This opportunity prompted her to pursue a PhD in polymer chemistry at UNC-CH. She is currently working in the Dingemans Lab on rigid polyamides for water purification applications. Outside of lab, she enjoys leading scientific outreach, reading novels, and exploring the numerous trails in the Triangle area.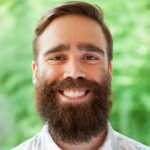 Riley Vickers
PhD candidate, Environmental Sciences and Engineering, UNC Gillings School of Global Public Health
Riley received his bachelor's degree in civil engineering from the University of Texas at Austin. He is currently a PhD student in the Gillings' environmental sciences and engineering department and is advised by Orlando Coronell and Casey Miller. His research interests include continuum physics modeling, molecular dynamics modeling, polymer chemistry, and reverse osmosis membrane treatment. His dissertation aims to improve synthetic membranes for water treatment using molecular-scale modeling.
Panelists: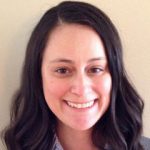 Jill Stewart
Philip C. Singer Distinguished Professor, Department of Environmental Sciences and Engineering, Gillings
Deputy Director, UNC Galapagos Initiative/Center for Galapagos Studies
Jill Stewart develops novel techniques to detect and track pathogens in water. She is particularly interested in linkages between ecosystems and human health and well-being. Areas of specialty include water and shellfish quality. She is also interested in evaluating impacts of non-point source pollution, and in evaluating the way human activities (development, stormwater management) can affect their exposure to microbial contaminants. Overall, this research is leading to a greater understanding of how environmental conditions can affect human health, and how humans themselves influence this process.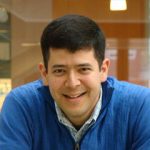 Orlando Coronell
Associate Professor and Associate Chair for Academics, Department of Environmental Sciences and Engineering, Gillings
Adjunct Associate Professor, Department of Applied Physical Sciences, UNC College of Arts & Sciences
Orlando Coronell studies basic and applied aspects of technologies for clean water and energy applications. His focus areas are membrane processes and, more recently, sorption processes. Currently, membrane research focuses on advancing the understanding of the mechanisms of transport of water, salts, and other solutes through membranes; the development of new and improved membranes; and the optimization of membrane processes and systems. Sorption research focuses on the study of sorbents for heavy metal and per-and polyfluoroalkyl substances (PFAS) from water. Work in Coronell's laboratory involves wet chemistry, materials synthesis/modification, materials characterization, performance characterization of engineering systems and mathematical modeling.